For Teams In Your Enterprise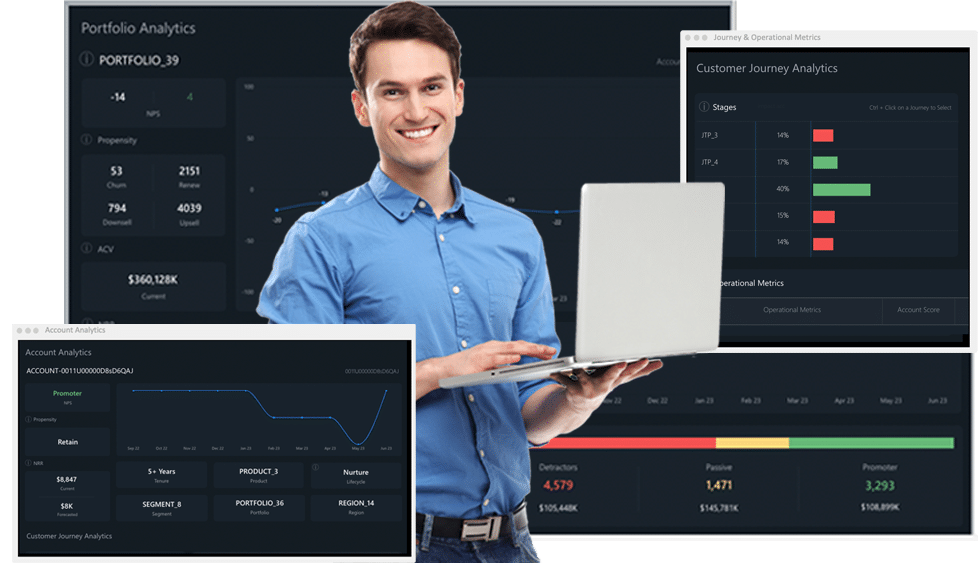 Programs that rely solely on survey sample data have already proven inadequate for today's data-driven operating environment.
Customer AI represents a new platform for forward- looking Customer Experience (CX) and Voice of the Customer (VOC) leaders, featuring experience analytics that are complete, continuous and connected to both operational and financial metrics.
It's typical for surveys to generate 5-10% response rates once per year, creating tiny data sets that undersamples negative attitudes. Customer AI fills the gaps left by unanswered surveys with accurate Generative CX analytics that are updated continuously. This is an example of a typical customer's results.
NPS® Coverage Using Surveys
Customer AI NPS® Coverage
". . . Since survey-based systems became ubiquitous, the world of insight generation has transformed through impressive advances in the ability to generate, aggregate, and analyze data. Companies now have access to a broad array of data sets: internal data on customer interactions (both digital and analog), transactions, and profiles; widely available third-party data sets that cover customer attitudes, purchase behaviors and preferences, and digital behaviors, including social-media activity; and new data sets on customer health, sentiment, and location . . . The contrast is stark: Why use a survey to ask customers about their experiences when data about customer interactions can be used to predict both satisfaction and the likelihood that a customer will remain loyal, bolt, or even increase business?"

McKinsey & Company